Do you know how to create a professional LinkedIn profile? Are you aware of how important it is to have a good one? If you want to get a job, clients or employees on LinkedIn, everyone (or almost everyone) will look at your personal profile and will get a first idea of the kind of professional you are. If you want to create a powerful profile, follow these tips!
1. Profile picture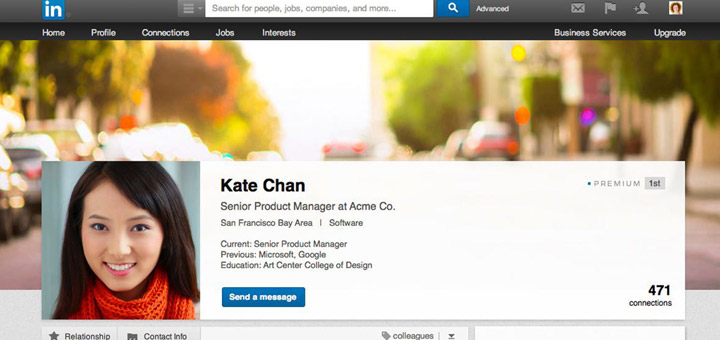 For many people, the existence or not of a photo will determine whether or not the professional profile is convincing. Without a LinkedIn profile picture, you will not be able to build trust. Your photo is the first thing people will see when they enter your LinkedIn profile. That's why you must offer them your best image. Your photo must be professional, without pets, friends and relatives.
Your face should be perfectly visible, clear and straight ahead. The pictures of you looking towards infinity can be very artistic and attractive, but they look better on Facebook. Your picture must be the faithful reflection of a person who brings value and safety in the working environment.
You must also take care of your LinkedIn profile background. Use an image that relates to your sector and add your contact details to it.
2. Names and surnames
Of course you can spell your name and surname well, but you'd be surprised how many people take advantage of this small space to market themselves. But what they don't know is that in doing so, they "tarnish" their image.
Besides, it's a practice prohibited by the platform, and could end up penalizing them. So, remember: forget about emojis, your cellphone number or your email in this section. Your parents gave you a name, so be proud of it!
3. Professional headline
The LinkedIn profile headline is often overlooked. This is where you can describe what you do in 120 characters or less. You'll wonder: if it's only 120 characters, how can you take advantage of them? It's very simple: keywords! They will help you appear in searches carried out by recruiters or other professionals.
With an attractive and powerful headline, you can differentiate yourself from the rest. So unlock your potential using industry-related keywords and make it simple and easy to understand. And of course, misspellings are not allowed. Always remember that this section is the one that will make you appear in the first LinkedIn search results.
4. Your contact details
How will they contact you if you do not give them your data? Your email and a phone number are essential elements in your LinkedIn profile. Furthermore, it is imperative that you customize your LinkedIn URL to make it more attractive and easy to remember than the one with numbers and letters that comes by default.
What is more, you should include your profiles on other social networks and a link to your projects, such as your blog, if you have one.
You might like: Why is LinkedIn important for your career?
5. Summary
The summary is the most personal section of your profile. In this part, you'll explain why you and not them. So don't hesitate to fill it out 100%. This is the section where you talk to others, so always write in first person and with keywords related not only to your sector, but also to your skills.
A tip? Pay close attention to the first two lines of your summary. This is where you invite your visitor to know a little more about you. Create your own "claim" and become the best ambassador of your brand. And don't forget to include links and videos from your work that better define you as a professional.
6. Work experience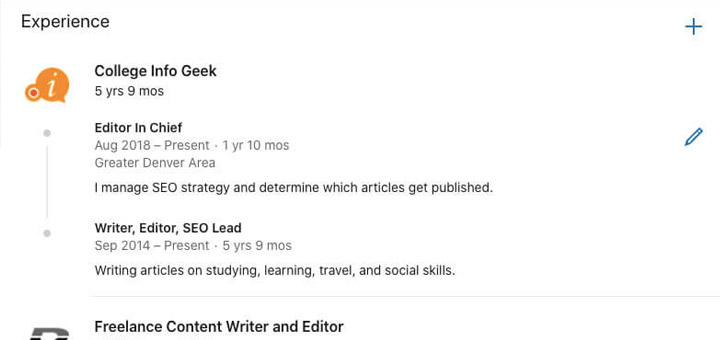 Now you have to show all your experience! This part is very similar to your resume. A lot of people have it complete, but that doesn't mean it's effective. Avoid including only your functions. Instead, write a good description about the responsibilities and achievements of each post. In this section, you can also include audiovisual material to strengthen your words.
7. Competences and credibility
Describe all your skills and aptitudes, again, with keywords and as precisely as possible. You can request recommendations from companies in which you have worked or from clients so that they can validate them. In the first three positions, try to include those skills that best define you as professional and that you want to stand out.
Now you know the top 7 elements of a powerful LinkedIn profile. If you make an effort to fill out these fields properly, you will be able to create a professional and attractive Linkedin profile that will attract recruiters and potential customers. We hope this information has been useful to you!

If you want more people to know your work, but you don't know how to reach them, don't worry. Go to gofamed.com and claim your Google presence in just a few clicks!