The resume is the basic tool to apply for a position, but there are employers looking for more. Sometimes your resume and a professional personal profile are not enough. A cover letter provides a broader picture of the candidate. But what is a cover letter? If you don't know the answer, keep reading the following article!
What is a cover letter?
A cover letter is one of the documents used in the job search process along with your resume. It is an opportunity to tell the recruiter why everything listed on your resume fits perfectly with the position, the company and its culture. A well-written cover letter makes the difference between continuing in the process or not.
With this tool, the recruiter may know more about you as a professional, but from a more personal perspective, and might arrange an interview. With the style and tone of your cover letter, the reader can capture how you process information or how you communicate with others at work.
Why is it important?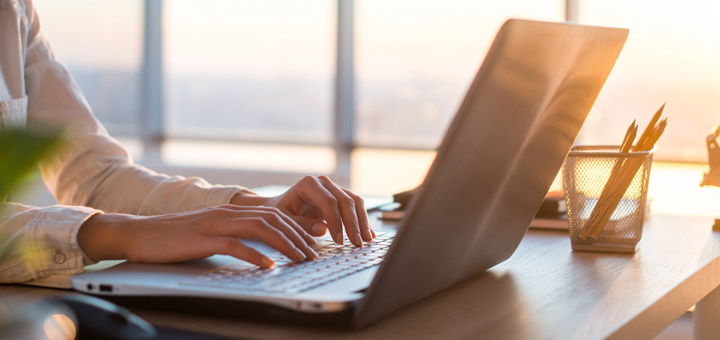 Are you still skeptical about cover letters? These figures will surely convince you:
According to Careerbuilder, 84% of recruiters reject a resume when the application of the candidate is impersonal (without the name of the hiring manager), and 45% of companies reject a candidate for lack of cover letter. Even in recruitment processes through job portals like LinkedIn, cover letters are required and highly valued by most companies.
A cover letter is one of the most effective ways to distinguish yourself from other candidates. Besides knowing the job and academic trajectory of the applicant, the employer will also have first-hand knowledge of more basic information, such as their personality, what they seek from that position, and what they can provide beyond their technical skills.
It is a means to deepen the achievements and qualities of the applicant, as well as to explain situations that might look bad on a resume, such as long periods of unemployment or rapid changes from one company to another.
The cover letter, like the resume, should be short, concise and attractive, and should include only useful information to present yourself as the best person for the job. There is no single way to write a cover letter, it can vary depending on which job or academic position you are applying for. However, its most basic structure commonly includes five elements.
You might like: 9 tips for writing an online cover letter
The 5 elements of a cover letter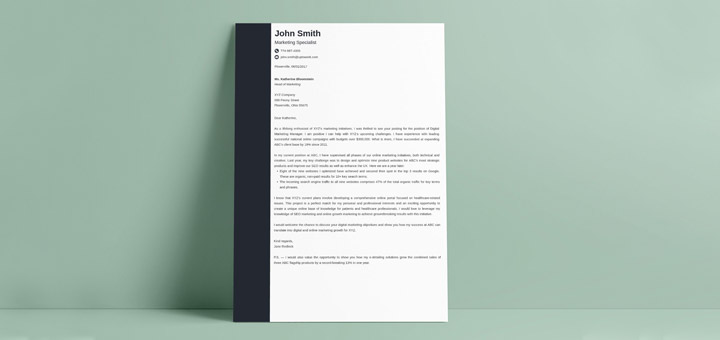 1. Header
It consists of two parts:
Your personal information: name, professional title, address, telephone number, email.
The employers' contact details: name, position, company name and address.
2. Salutation
Having the name of the person in charge is very important, but if you don't know that information, you can write: "Dear Hiring Manager."
3. Introduction
Write a nice and interesting but professional personal presentation within a paragraph. The most important thing about a cover letter is that it must be 100% customized for the position and the company you are signing up for.
4. Hook
First, explain why you are the best possible future employee and then why this job is perfect for you. In the first sentence give the reference of your most recent and relevant work. Continue highlighting some skills, achievements, or projects which are most in line with the requirements of the offer. Finally, in the third paragraph explain how your experience and skills are the combo the company needs.
5. Closing
Finally, add a clear call to action, such as: "I'd like to discuss my relevant achievements further with you over an interview at your earliest convenience." Let them know of your availability to have a call or meeting. Repeat your contact details. Remind them that there is still more about you in the CV you have attached and say thank you. Add your name or signature.
What you need to keep in mind
As a formal document, the cover letter should have a specific format. There are many Word cover letter templates you can use, but we have put at your disposal the best guide of format and design:
Write a customized cover letter for each application.
Don't repeat what you have written on your resume. Add additional information with short sentences that explain why you are the best for that position and why that position is the best for you.
Use the vacancy requirements to which you will send your candidacy as your main reference.
Pay attention to the correct format of a cover letter and use it as the best tool to demonstrate how professional you are.
Now you know the meaning of a cover letter in a job application. The important thing to keep in mind is that it should talk about you, your employers and, above all, what you could accomplish together if they hired you. We hope this information has been useful to you. Good luck!

If you want more people to know your work, but you don't know how to reach them, don't worry. Go to gofamed.com and claim your Google presence in just a few clicks!