Thanks to new technologies, CV formats have changed. Do you have your resume up to date? Is it well designed? Does it match your professional personal profile? A good resume should be short, concise and eye-catching because it should grab recruiters' attention within seconds. Take a look at the best resume builders to help you stand out!
1. CV Compiler
CV Compiler is a very practical tool because it analyzes your resume and highlights its strengths and weaknesses, so you can improve it. You have to upload your resume in DOC, DOCX or PDF without exceeding 5 MB. Then, CV Compiler will automatically analyze it word by word and compare it with the vocabulary most valued by talent seekers.
CV Compiler is aimed at digital technical profiles such as developers, programmers, engineers, designers, among others. In any case, you can test it for any profile and see what results it gives you. It's a different way to refine the content of your CV using SEO strategies.
2. Zety CV Maker Online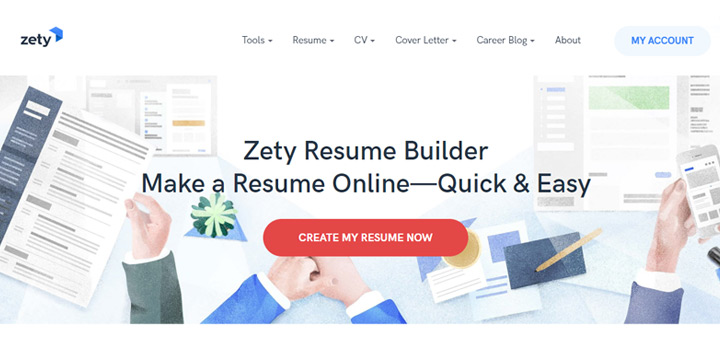 Zety is a practical online assistant that guides you step by step to shape a professional resume. According to its creators, in 5 minutes you will be able to choose a design template, edit the information by removing, adding and customizing the data and keywords, and get the resume in PDF or online format to share it and send it directly, without downloading it.
Among its features, Zety will recommend the necessary sections to provide the most relevant and interesting data to impress recruiters with your resume.
3. Canva
Canva is a design program for non-designers and designers. It isn't a CV maker, but it has a portfolio of pre-designed templates for many sectors. It also has a few pre-designed CV models, which you can access even if you don't have a premium account.
To access the pre-designed resume templates, you just have to search «resume» in the tool's search engine.
You have lots of free graphic resources.
You can embed links in your CV, which will run perfectly if you download it as a PDF.
You can download your design in high resolution and in the usual formats.
It's a fairly intuitive program. Simply drag and drop the items on the canvas.
4. VisualCV
VisualCV is a software designed to create specialized CVs. It's available in several languages and it has a CV creator for students, i.e., those who have not yet entered the labour market.
It allows you to create a CV directly from LinkedIn.
It has a lot of templates both in the free version and in the premium version.
You can manage several CVs from the same tool.
It can be easily downloaded in PDF format.
You can share it on your social networks and get feedback if you enable this option.
You can measure the results.
The platform has a lot of resources such as guides, tips, images, etc.
More than 3 million users opt for this option.
5. Genial.ly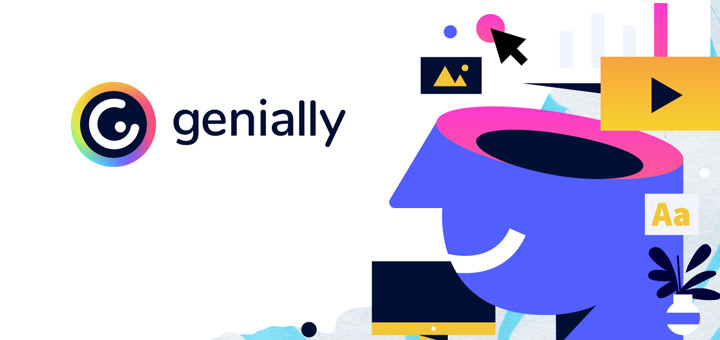 With Genial.ly, you can make almost all kinds of attractive designs and you don't have to be an expert in the field. It's ideal if you need a groundbreaking resume because it allows you to make interactive designs.
You can have an infographic, interactive and navigable resume.
You can create your own resume or modify one of the program's pre-designed templates.
The selector will be able to browse your CV online and discover what you have to offer.
You can connect multiple areas, embed videos, images, etc.
If you have a portfolio or blog posts, it's a fantastic opportunity to link all your work to your CV in an attractive and dynamic way.
6. HipCV
So far, all the programs we've seen give a lot of importance to color and design. But if you want a sober option, with less visual impact, HipCV meets that condition. If you are applying for certain jobs such as the CMO, CTO or even the CEO of a company, you need a more sober or traditional resume.
HipCV is very basic and intuitive.
You can share the results on your networks or download them easily in PDF.
If you have any difficulty with any text, it has a kind of assistant that suggests sentences or examples already written.
You can track visits to your resume and know if people from other countries have seen it.
It's completely free.
You can edit your CV as many times as you need.
You can generate multiple versions of your resume.
You can share it online.
The platform offers a small advice on how to fill out the resume.
Now you know 6 resume-building tools. These resources will help you create the perfect resume to stand out from the competition. Pick the one that suits you best. We hope this information has been useful to you!
If you want more people to know your work, but you don't know how to reach them, don't worry. Go to gofamed.com and claim your Google presence in just a few clicks!